Functional and fashionable floors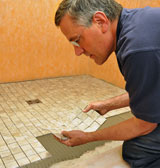 You all know the feeling of stepping down onto a bare, cold, tile floor on those frigid winter mornings. You want your slippers right by your side so your feet don't freeze the moment you get out of bed.
With heated floors from Tile Masters Inc. those days become a thing of the past. Your floor will hold and radiate warmth not only on your feet, but throughout your entire home. You won't have any use for slippers anymore when we are through.
Heated floors also help save on your gas bill, as you won't need to turn the heat up so high to heat the whole house. Adjust the temperature as you please and love the warmth beneath your feet.
While they serve a functional purpose, heated floors also look fantastic. We offer the same elegant tiling we do for non-heated floors, giving your home a trendy and modern look with that extra touch of the classic and traditional.